Window treatments can elevate any room in your house because they can elevate the lighting in any room of your house. Hunter Douglass custom window treatments have become popular for their design and class, bringing curb appeal and timeless shapes into any room of the house.
Custom Hunter Douglas window treatments come in a variety of options which you can consider for any room of the house. Their blinds turn rooms into works of art. Find something you love, and elevate your entire space!
Sheers and Shadings
Hunter Douglas is perhaps most well known for the sheers and shadings. Window sheers have become commonplace, but the Hunter Douglas models still seem to elevate the style. Their Silhouette® variety uses S-shapes to filter in light while preventing your privacy from being compromised through high-visibility. The Silhouette® variety is a common choice for living and family rooms.
The Pirouette® model uses shadings and soft fabric to back up ingenuity and design with a single window shading. Perfect for airy kitchens and dreamy spaces, you'll maximize the light with fabric that scatters without absorbing.
The Luminette® model uses vertical vanes which rotate to allow either maximum light or almost no visibility. The model uses special technology to diffuse sunlight instead of soaking it all up. Perfect for creating naturally-lit spaces without letting harsh sunlight destroy fabrics or privacy.
Honeycomb Shading
Hunter Douglas makes only a single version of their honeycomb shape—Duette® shades, which come in a variety of colors and textures.
The Duette® design uses a honeycomb shape to trap the warm air generated by sunlight, building energy efficient rooms which soak up the sun without becoming warmer. It's the best way to keep your house cool in the summertime while still allowing some natural light to illuminate the room.
Roman Shades
Roman shades are made of fabric that folds and moves straight up and down, stacking when they are lowered or raised. The fabric design makes the shape ideal for smaller spaces and smaller windows that don't need massive curtains and sheers. Additionally, Roman shades are really easy to open and close, making them perfect for rooms that you want complete lighting control over.
Hunter Douglas' most popular variety of Roman shade is the Vignette®, which are a modern design that has no exposed cords. They fold up or down and come in simple fabrics.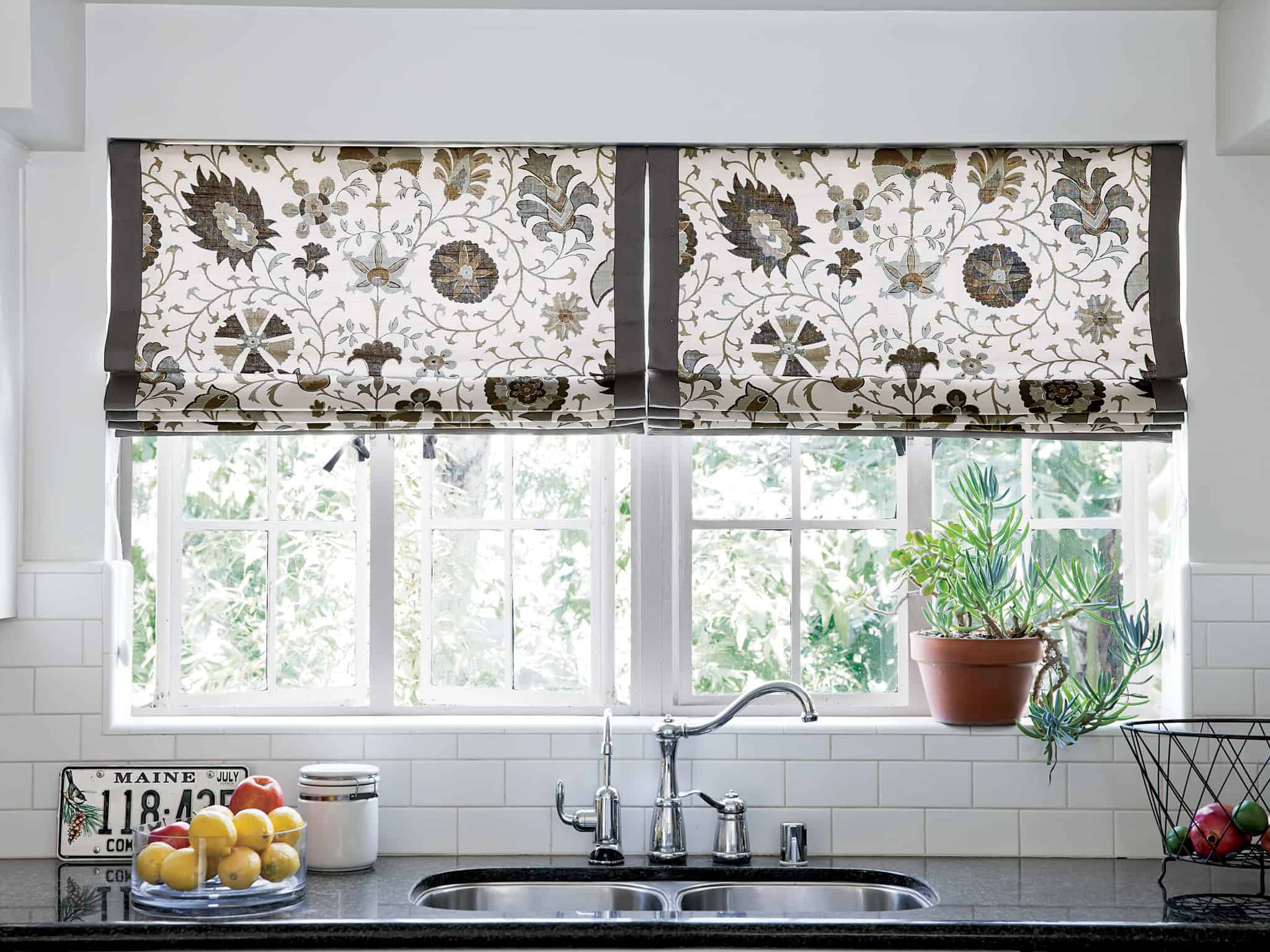 The Solera® construction combines the honeycomb design with a Roman shade functionality. The shape traps warm air in the shades without warming up your room, so the Solera® model is perfect for rooms that get direct sunlight during the hot summer months.
If you're looking for Hunter Douglas custom window treatments that are a bit more bold, the Design Studio® model uses luxury fabrics and textures to create a bold, bohemian fabric style. You'll get more wild colors and interesting patterns with this model.
Woven Woods
Calling the chill vibes of the beach and the earthy tones of the forest, Hunter Douglas woven wood models double down on the natural look—combining natural materials with natural light. These shades are great for minimalist aesthetics and fans of traditional architecture.
The Provenance® model is the most popular variant, a simplistic design inspired by the finer textures of nature. It's a great choice for guest rooms, bathrooms, and sunrooms. The natural textures and colors play well with any sort of pastel color scheme.
For those who would like a more bold design from their woven wood, the Alustra® model uses lighter, airier fibres to filter light without drowning out the yellow textures. Putting up these woven woods in a room maintains a modern, Brooklyn look that has a bit more class and style than the average blind.
Shutters
Privacy and elegance, optimized for the street-facing side of your house. Perfect for the entryway and any rooms that look out onto the road. Hunter Douglas shutters are known for long-lasting construction, and can be custom fit to any front windows that are designed in odd shapes!
The Heritance® model is the most popular, inspired by Southern style and animated by West Coast minimalism. The shutters are made from genuine hardwood and can be finished or colored to your exact specifications.
For a more modern look, the Palm Beach® variety are increasingly popular for their UV-resistant finishes that help the model resist sunlight. Not a pure wood, but built with the Hunter Douglas ingenuity that is somehow trend-setting and timeless at the same time.
Finally, for a New York highrise atmosphere, the Newstyle® shutters create a culture of hard work and hard play. Beautiful shapes, simple design, and floor to ceiling coverage.
Wood and Metal Blinds
Hunter Douglas focuses on timeless designs in all of their custom window treatments. You won't find them chasing trends that will look ugly in 5 years. But if you would like something a bit more modern and innovative, they also offer wood and metal blinds that push the limits of window dressings.
Their Parkland® model is a set of blinds made from genuine hardwood. The slants and lines are gentle, ideal for classic dining rooms and entryways. With wooden blinds, you get the functionality and texture of a blind with the class of wooden shadings. Plus, since Hunter Douglas only sells the finest custom constructions, you get a long lasting product that doesn't feel cheap when you open and close it.
A lighter, living-room friendly model, the Everwood® design uses lighter colors and a wood alternative to support larger spaces. Scatter sunlight without blocking it, remove harsh light without limiting natural light.
The Modern Precious Metals® collection uses aluminum blinds from pearlescent to matte to bring gorgeous style to modern homes and apartments. It's a bold, metal finish which allows you to play around with artwork and fabrics. The range of colors and sophistications allows you to pick a color and choose from room darkening to high-visibility. The colors pair well with any sort of curtains and drapes, creating a perfect contrast of styles.