There is such a wide array of styles and materials available when choosing fabric for your window treatments. This adds oomph to the window treatments by injecting color and elevating your space.
They are a practical solution giving you control over each room's heat, light, and privacy. In this article, we will focus on things you must consider when buying the fabric for your next window treatment.
Whether it is the window blinds, shades, drapes, or sheers, you can choose a fabric for a window treatment that can help create the desired ambiance for your ideal home.
7 Things to Consider When Buying Fabric for Window Treatment
Here are seven areas you must focus on when shopping for the best fabric for your window treatment.
# 1: Styles
When selecting a window treatment, you must always envision the ambiance you wish to create in the room.
Window treatments have a wide range from traditional, classic pleated drapes to contemporary shades and blinds. This makes window treatment a simple way to add personality to your rooms and transform them.
The way you cover the windows (or not) helps define the design tone of your room. To add a bit of drama to your formal room, you can use long drapes using rich velvet fabric. If you fancy adding a contemporary flair to a room, install Roman shades using the fabric with bold colors and geometric prints.
# 2: The Right Fabric
Did you know that the material of your fabric can change the tone of your window treatment design?
The fabric's material plays a significant role in determining your shades or curtains' looks, and consequently, your Chambre. From lightweight cotton to sheer lace, heavy velvet to medium weight brocades, you have endless options. However, the two factors you must consider when shopping for the fabric are:
Amount of sunlight you wish to enter your room
The décor and mood of your room –for instance, the heavier fabric is suitable for more traditional rooms, whereas sheer fabrics will be best to achieve a more minimalistic look.
Remember, every fabric falls from an elevation in a different fashion. Hence each will look different when drawn back or pleated.
# 3: Color Makes or Breaks the Look
Remember, your shades and curtains must complement the fixtures and furnishings of your room. The colors of your fabric for window treatments must ideally sync with the rest of your room's theme.
You can either choose drapes to contrast with the décor or harmonize with it. If you aim for a pleasing look, choose fabric in a color that complements your walls' color scheme.
Alternatively, if you want to keep your window shades or blinds as your room's main focus, then pick a color with a hue contrasting with walls and furniture.
# 4: Choosing Between Solids and Prints
The answer to this is – take a glance at the rest of your room's décor. If all the soft furnishing within are solid colors, your best option will be to go with printed shades, curtains, or drapes.
In short, opt for patterns if the room has solid colors and vice versa.
Another thing you must remember is that prints will enhance the visual appeal of your room. Thus, the best way to work with printed fabric is to pair it with solid-colored furniture and fixtures. You can also accessorize the room with printed area rugs, cushions, etc.
You can also use geometric patterns and quirky prints with contemporary style. If your room has traditional and modern classic décor, opting for floral designs and colors will be ideal.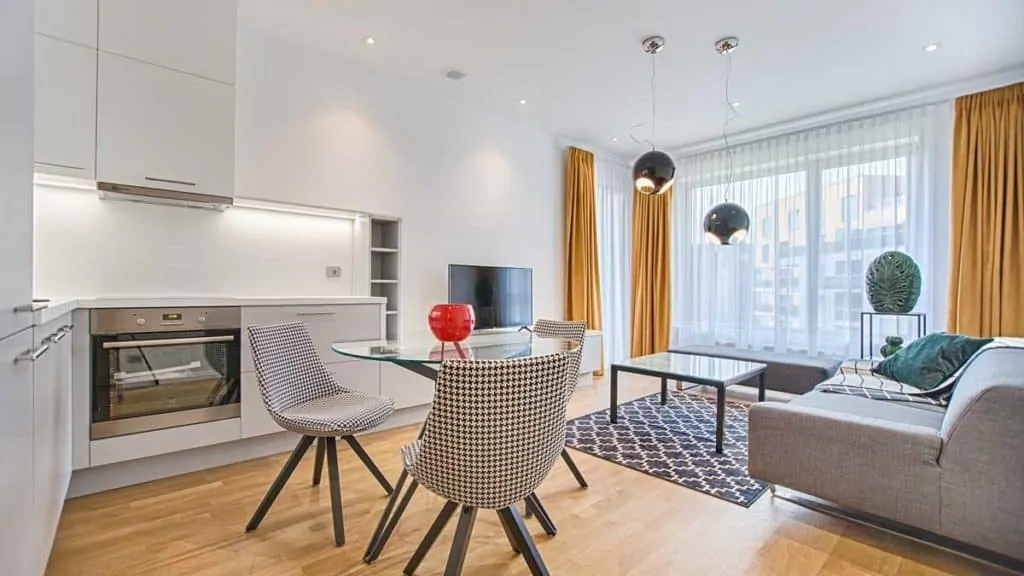 # 5: Ideal Length
Shades and curtains with floor-length give a high-ceiling appearance to your room. Curtains falling exactly to the flooring are in vogue. If you want to add a dramatic look, opt for fabric longer in size by a few inches – this will help your drapes or curtains puddle on the floor.
On the other hand, a household with children is better off with fabric a couple of inches above the floor level. If you have smaller windows, fabric length ending at the sill is a classic option. However, full-length shades, curtains, or drapes will work equally.
# 6: The Width
Get a wide fabric for your window treatment; this will help achieve a gathered and neat look. The ideal width of fabric for your curtains or shades depends on the molding's width on your window's pane.
One way to gauge the ideal width is by measuring your frame and multiplying it by a factor of 2/2.5. The extra fabric will help achieve the gathered look on the curtains' side when they are in a drawn-back position.
# 7: Accessories and Trims
Not only the fabric itself, but the trims and accessories are also of the essence when it comes to choosing the best fabric for your next window treatment. A decent fabric to tie back your curtains or use as drapes on your shades can spruce up your window treatment design and appearance.
Tone them up or dress them down – the accessories and trims for your window treatments range from Valance and pull-backs to ornamental styles and designs. You can use cleverly chosen accessories and trims to accompany your light drapes, as this will add grandeur and richness.
You can use Valance, a frilled decorative fabric, and place it on top of your windows. This is an amazing tweak to add embellishment to your rooms.
On the other hand, buy simple pull-backs and use fabrics like satin or velvet for a sleek and chic look. However, it all depends on the look you wish to achieve.
Last but Not Least
You must also keep in mind the convenience of cleaning the fabrics. Choose a fabric that is easy to clean on a weekly basis, especially if you are allergic to dust.
It is always a good idea to factor in the fabric for your window treatment when deciding the décor of your room. Consequently, it will enhance your décor ambiance to be more harmonious and coordinated.
Contact the window treatment pros at BBD Lifestyle and our team will help you find out which types of fabrics are best for your window treatments.